A lot of us college girls look to "the greats" on social media for tips, lifestyle advice, and fashion or beauty inspiration. That's why today I'm sharing my favorite Black influencers to #diversifyyourfeed.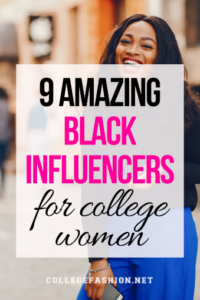 Oftentimes our social media feeds can be whitewashed and filled with the same old creators that everyone else is following (and then Instagram will start recommending us more creators that fit this bill) — and as a result, we miss out on amazing Black creators and influencers. And this is a huge shame, because the people we see on our feeds can greatly shape our opinions and outlooks on the world.
There are so many amazing Black influencers out there (click here for our list of our favorite black fashion influencers), but I'll give you a head start on some beautiful and smart people to follow right this minute.
Here are some of my favorite Black influencers on Instagram, Tiktok, and Youtube. I've even included some podcasts to listen to!
Black Influencers on Instagram
Mattie is an inspiring, powerful, and kind woman who isn't afraid to grow and change for the better through social media.
Many influencers are concerned about their feed looking perfect, but Mattie exposes her flaws with grace and teaches others how to learn from them through her own example.
For anyone interested in social media, she is a must-follow! Mattie has the best tips and tricks for improving your feed, collab-ing with companies, and living life authentically as an influencer.
Shelcy & Christy Joseph (@nycxclothes)
Shelcy & Christy Joesph are two sisters originally from Haiti but now living in NYC.
Besides the obvious fact that their feed is GORGEOUS, their story is just as powerful. They saw that not many women of color were represented in the streetwear scene in NYC or as creatives in the fashion industry, and they decided to make a change.
With their blog and Instagram platform NYCxCLOTHES, they're boosting fellow Black creatives and encouraging other women of color to take their space in the fashion and branding industry!
In case you haven't already heard of it, Golde is a beauty and wellness brand founded by Trinity.
On her Instagram, Trinity motivates young women to start doing what they love and founding startups and small businesses.
Not only does she offer plenty of tips and insider knowledge of what it's like to run a business, she also open and transparent about her own life and her day-to-day struggles and successes.
Plus, she's always giving wellness advice for all the nutrition-loving college girls out there!
Black Influencers on Tiktok
Jordan's Tiktok takes the idea of "by college girls, for college girls" to the next level!
In her videos, she gives tips on how to make the most of high school, how to choose where to go to college, tips for the admissions process, and how to navigate your time at college.
She's authentic, smart, and always happy to share any advice she can with high school and college students.
Even though I'm almost done with college, I still love watching her Tiktoks for the pure joy and happiness she exudes!
Germany is insanely talented at makeup, but she's an even better teacher!
In her Tiktoks, she does such a great job of breaking down exactly how she does her makeup so others can learn easily how to do it.
Her videos have so much personality and they're so fun to watch that you don't even have to be doing makeup along with her to enjoy them!
Her content is perfect for those just getting into makeup and those who want to become more creative with their looks!
If you're looking for a little laughter in your day and a fun Tiktok account to follow, Dani is your girl! She makes a ton of relatable videos about being about growing up and being a teenager, and the accuracy is TOO REAL.
Dani talks about everything from growing up to being a Black woman in today's world to advice for others and even has some cool Tiktok trends making an appearance on her page as well.
Black Influencers on YouTube
Whitney's channel is the perfect place to learn some new makeup skills!
She is candid about how to care for and style Black hair, and her makeup looks are always suited to show up and look beautiful on darker skin.
On her channel she walks her viewers through her every day routines so they'll always know her looks can be done at home.
On both her YouTube and her Instagram, she features tips on styling Black hair, how to grow your social media platforms, and how she incorporates pieces of her African heritage into her makeup and fashion looks!
I love watching college YouTubers talk about their experiences with college admissions and their lives in college – it's my guilty pleasure! So naturally, I love Domonique's videos where she interviews fellow college students on what their experiences have been like.
She often interviews POC students on their experiences in high education institutions and how their racial identity affects their experiences.
Domonique isn't afraid to ask the serious questions, but she also loves chatting with her interviewees about their favorite places to eat on campus or their guilty pleasure Netflix shows which make her interviews fun to watch on so many levels.
Not only does Jeneé have an amazing Instagram and blog, but she's also a great YouTube personality to start watching!
She gives on-point tips on how to style clothes you already have in your closet and where to shop for new clothes.
Jeneé's channel can help you plan outfits for any occasion and her haul videos are so fun to watch. She'll tell you what's worth the splurge and what to pass on so you can get the best shopping tips right from home.
Bonus: Podcasts from Black Influencers
In case you haven't gotten enough of our favorite influencers, here are three podcasts run by Black influencers — trust me, you'll LOVE them.
Beauty & Self Care Tips: Naked Beauty hosted by Brooke DeVard Ozaydinli
Being Authentic & Being Black in America: Around The Way Curls hosted by Antoinette Henry and Shaolin Shanti
Making Money While In College: Wealthy College Kid hosted by Christianna Hurt
What Do You Think?
Who are your favorite Black influencers? Which influencer on this list are you most excited to follow?