Live book launch event with Kiara Imani discussing her new book in conversation with Dominque Diprima: Therapy Isn't Just for White People
Saturday, Aug 13th at 2PM | Click Here for tixs and details
Meet the Author Live: Kiara Imani author of, "THERAPY ISN'T JUST FOR WHITE PEOPLE" SAT. AUG 13 @ 2PM at Malik Books in the Westfield Culver City Mall
Kiara Imani will discuss and sign her new book in conversation with guest host Dominque Diprima. Therapy Isn't Just For White People is a brilliant debut memoir chronicling Imani's compelling journey to understand the racial trauma experienced by many Black people in America and the underlying effect it has on Black mental health. Through therapy, Imani was introduced to the concept of racial trauma, and discovered how her own unrecognized racial trauma affected her mental health, self-image, and worldview.
Spanning more than twenty years, Imani weaves together a multigenerational family portrait of her experiences growing up in the south to her career as a young Black professional, where she was often one of the few Black people in the room. Grounded in truth and reality, in a series of insightful and deeply affecting essays on race, gender, and identity, Imani writes about career, money, religion, food, health, dating, friendships, body image and beauty, and ultimately, through therapy, her mental health and well-being.
Sincere and inspiring, soulful and uplifting, Therapy Isn't Just For White People is a timely reminder of why the telling and sharing of untold Black stories are central to understanding the pervasive race issues in America. "Hold your head high and wear your Black skin with pride," Imani writes, embarking on a journey of understanding, healing, empathy, self-love, and taking control of her personal narrative about what it means to be Black in America in the 21st century.
Event is Free. Limited Quantity of Books – Pre Order will guarantee sign copy. Click link to purchase "THERAPY ISN'T JUST FOR WHITE PEOPLE"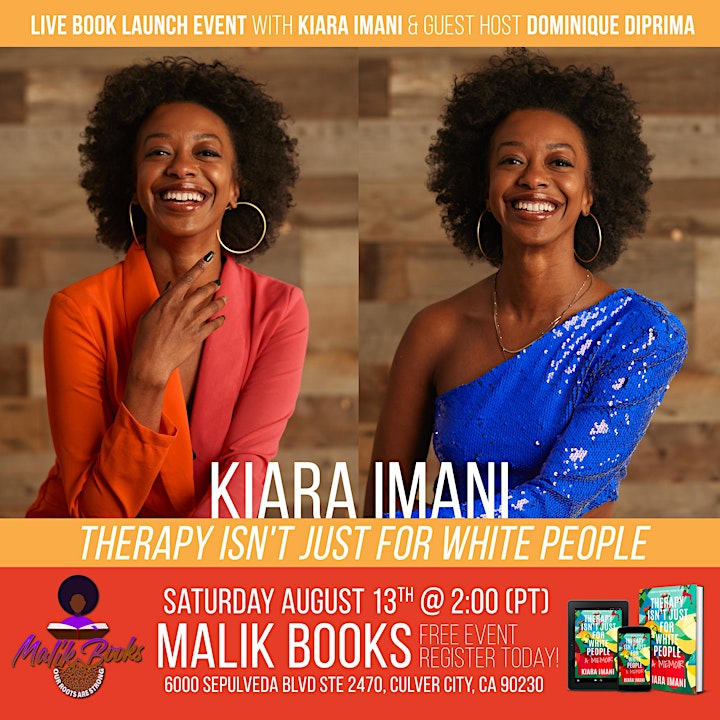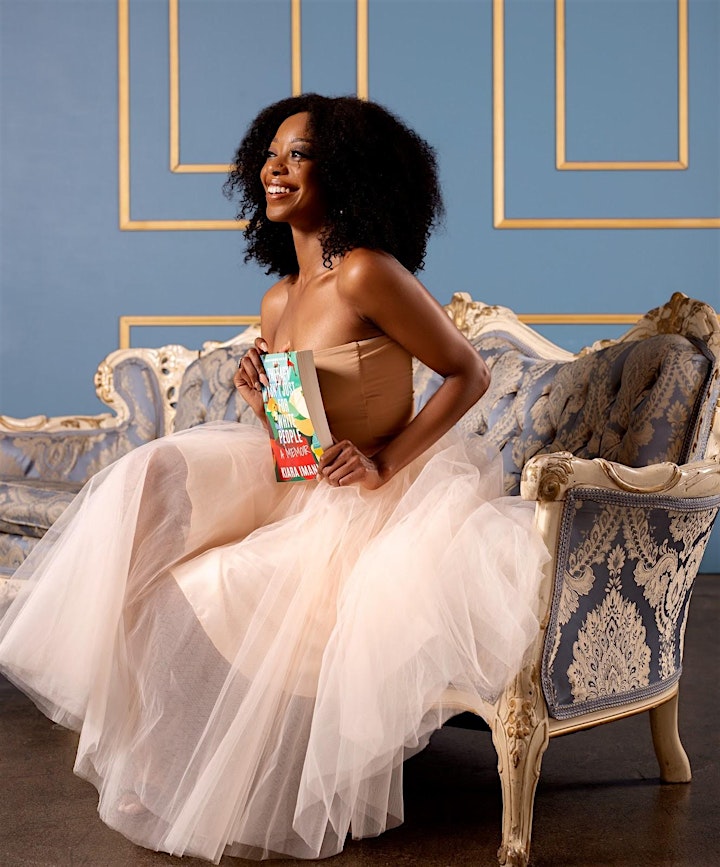 About Author
Kiara Imani is an attorney, writer, and co-host of Don Amiche vs. Everybody + Crysta & Kiara, a daytime talk show on Los Angeles radio station KBLA Talk 1580 AM. She is the co-founder of LikeU Cards, a getting to know you card game that facilitates human connection and meaningful conversation. Imani graduated from the University of Virginia School of Law and received her bachelor's degree from the University of Virginia with a major in political science. She has been featured in Forbes, Oprah Magazine, The Huffington Post, Blavity, and more. Therapy Isn't Just For White People is her debut memoir.