A three-day gastronomic adventure that will highlight distinct aspects of food culture in Southern California.
L.A. Times Food Bowl Night Market
For full info on Night Market, go to the Food Bowl website.
Friday, September 23: Smoked Soirée
Saturday, September 24: Saturday Night Flavor
Sunday, September 25: Backlot Brunch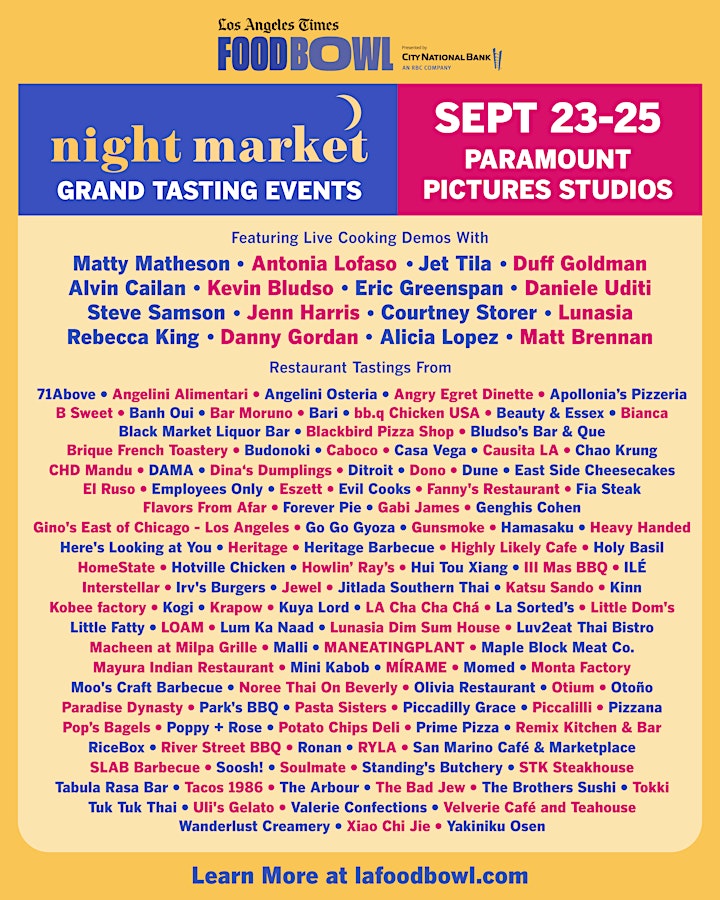 Enjoy a full weekend of exclusive culinary experiences at Hollywood's historic Paramount Pictures Studios! On September 23-25, Night Market will feature all-inclusive food and drink tastings, cooking demonstrations, wine seminars and more from the world-class culinary artists behind over 100 of the city's top restaurants. Feel the heat at Friday night's Smoked Soirée, celebrate L.A.'s diverse restaurant scene at Saturday Night Flavors and eat your way through L.A. at the coveted Backlot Brunch on Sunday. Don't miss these one-of-a-kind events!
Food Bowl is proud to support the L.A. Regional Food Bank.
LOS ANGELES WEEKEND EVENT SCHEDULE
Friday, September 23rd Smoked Soirée • 8pm – 11pm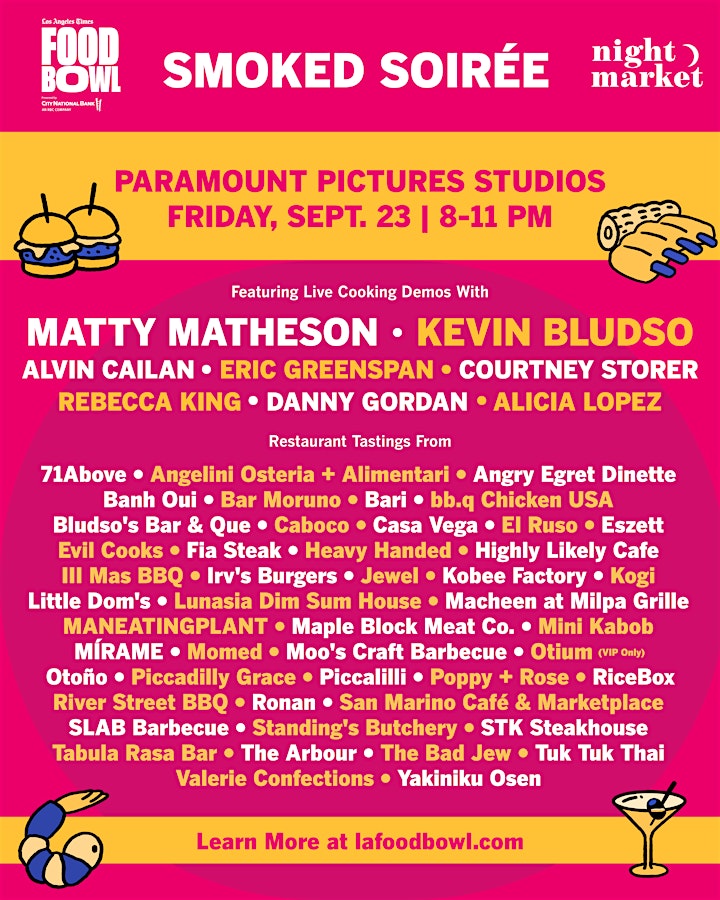 This ain't your average backyard BBQ. Join top chefs, pitmasters, burger barons and grilling experts serving up their best dishes side-by-side. Cap it all off with smoke-infused cocktails, grilled desserts and live DJs at this exclusive late-night celebration of all things grilled, smoked and barbequed, featuring the BBQ Burger Block Party with Heavy Handed, III Mas, Irv's Burgers, Kogi, Moo's Craft BBQ, RiceBox, River Street BBQ, SLAB, Standing's Butchery, The Bad Jew + Highly Likely, Valerie Confections; grilled desserts and more.
LIVE COOKING DEMONSTRATIONS:
Smoke & Soul BBQ Demonstration with Pitmaster Kevin Bludso: Television personality, two-time Steve Harvey Hoodie Award Winner, and chef and owner of Bludso's Bar & Que Kevin Bludso will teach us some BBQ skills from his new cookbook Bludso's BBQ Cookbook: A Family Affair in Smoke and Soul.
Welcome to the Beef with Matty Matheson & Coco: Canadian born chef, restaurateur, and YouTube star most recently known from his role as co-producer and actor on FX's breakout hit show The Bear, Matty Matheson will team up with the culinary producer of The Bear in a live version of the Welcome to the Beef series demonstrating a recipe inspired by the TV show.
Burger Battle, brought to you by New School Quality American: Join host Eric Greenspan (Mr Beast Burger, New School Quality American) and judge Alvin Cailan (Amboy: Quality Meats & Delicious Burgers) for this burger-off featuring 3 of L.A.'s best burger aficionados grilling it up. Who will win!?
Saturday, September 24th Saturday Night Flavor • 7pm – 10pm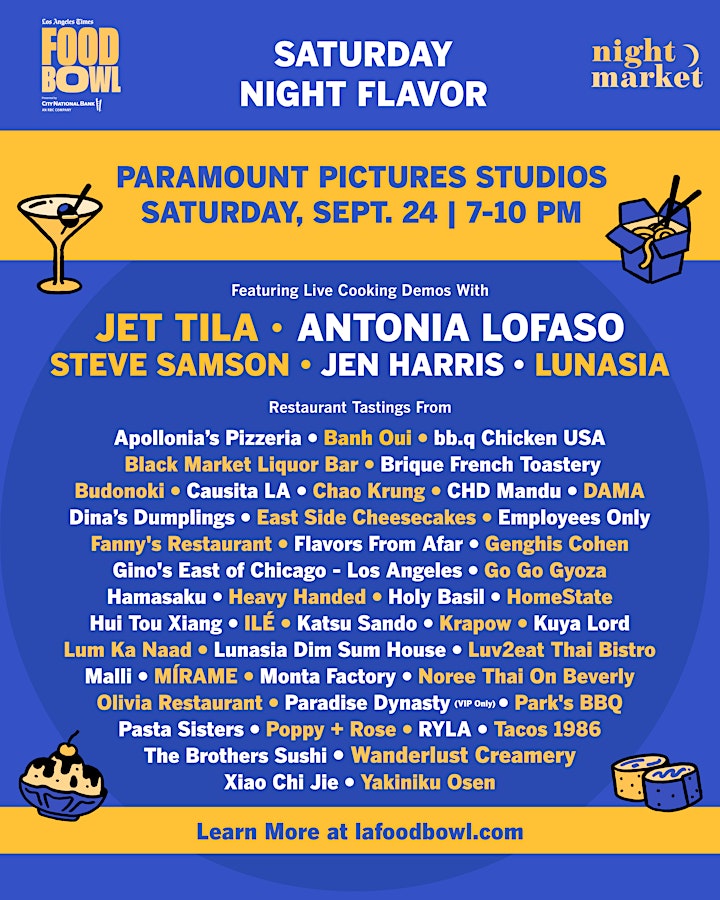 From Thai Town to Little Ethiopia, Fairfax to the San Gabriel Valley, the diverse flavors of L.A. are the heartbeat of our city. For one night only, sample a smorgasbord of global cuisines for an experience that is quintessentially L.A. Be sure to keep an eye out for L.A. Times food columnist Jenn Harris, who will curate a selection of dumplings from her new series "The Bucket List: Dumplings" featuring dumplings from CHD Mandu, Go Go Gyoza, Hui Tou Xiang, Lunasia Dim Sum House, Monta Factory, Paradise Dynasty(VIP Only), and more!
LIVE COOKING DEMONSTRATIONS:
The Gold Standard for Authentic Thai Cuisine with Jet Tila: A regular on the Food Network television channel, chef Jet Tila will demonstrate recipes from his showstopping collection of must-try Thai dishes, sharing the world of his Thai heritage for today's home cooks with recipes that are authentic, accessible and ultra-craveable.
Dumpling 101 with Steve Samson & Lunasia, hosted by Jenn Harris: Learn to how to make Dim Sum from Lunasia and Tortellini from Steve Samson of Rossoblu
Ricotta Gnudi with Antonia Lofaso: Join Chef Antonia Lofaso of DAMA and Black Market Liquor Bar as she demonstrates one of her original menu items at Black Market Liquor Bar, the Ricotta Gnudi. Learn how she took a traditional Tuscan dish to the next level by infusing it with her own California flair, creating a new original classic.