LA's Premier Tequila and Mezcal Festival! Explore over 60 different Tequila and Mezcal brands while enjoying amazing music and food.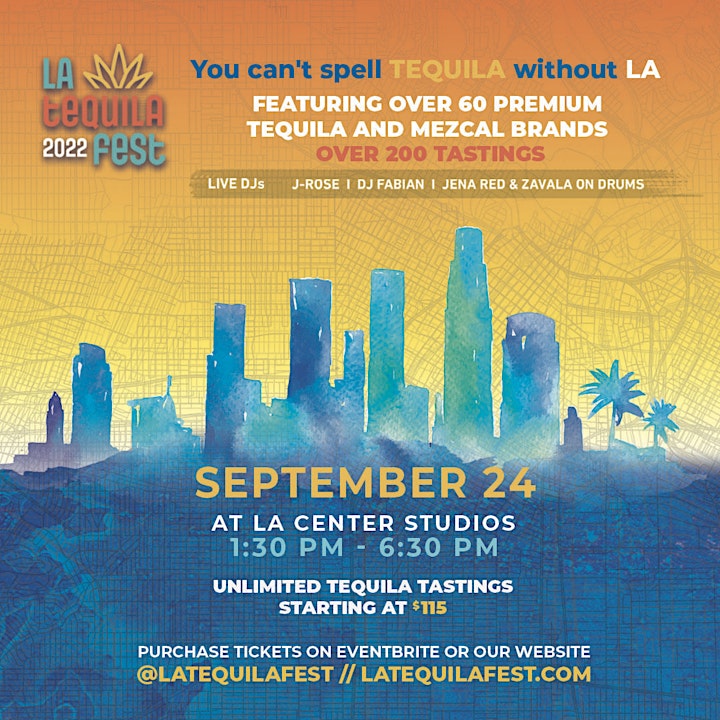 You Can't Spell Tequila Without LA!
LA Tequila Fest is happening!
Come out on September 24th to LA Center Studios and explore over 60 different Award-Winning Premium Tequila and Mezcal brands, that's over 200 different tastes, sought-after gourmet food trucks, Live DJ sets, and fun activations. Yes, we said 200!
We double dare you to attend this event and not leave a tequila or mezcal fan.
Never look at tequila the same again. No LIME Needed!
Soak up some Cali sun while playing a round of cornhole, giant Jenga, Connect Four, and much more. And don't forget to take a pit stop at our boutique marketplace and indulge in life's pleasantries one vendor at a time.
This event has something for everyone: tequila enthusiasts, Tequila newcomers, and plain ol' alcohol drinkers.
Spotlighted Tequila Partners:
• Mandala
• Don Fulano
• Fortaleza
• Tequila Cabal
• Padre Azul
• Código 1530
• Dame Más
• And many more!